processing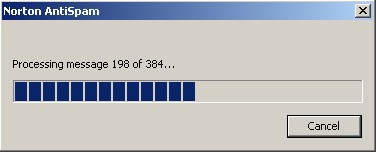 remember this annoying little image? still pops up depending on how old your software is. though most people are cool and have macs nowadays.
anyway, irrelevant to the topic at hand save that i've LITERALLY been processing my life for the past two weeks. work and school and finals and all these responsibilities pretty much fell on my head all at once and i've been trying to sift my way through.
so today was my last day of work. tuesday was my last day of school. i'm...beyond thrilled right now. i'm drinking a 22oz of corona, laying in the most comfy jeans i own and watching the boy play mass effect. i just cleaned my house (after dumping the entire contents of my desk all over the living room) and later, i'm going to do dishes and have a snack.
that's it. no homework. no getting up at 7 am on only 3 hours of sleep because of agonizing over the stress of my workplace. i learned a lot this week that i'd like to share but later. it's just...nice...to relax for a few hours and take it all in. i'm sure i'll flip out on tuesday or next friday when i realize i REALLY don't have to go back there...i just can't describe the feeling. so for now, here's a photo.
oh i washed my hair. and it hangs. weird stuff.
top: le tigre
skirt: from the shoe fairy (who apparently also gifts in skirts?)
shoes: cordwainer (handmade in new hampshire. i love these babies
gratuitous shoe porn:
and now i'm gonna go eat double stuf oreos. i friggin love summer. be back tomorrow. i've MISSED sharing!